Ικανοποίηση ασφαλισμένων από εξωτερικά ιατρεία του ΙΚΑ στη Νομαρχία Πειραιά.
Satisfaction of insured persons from the outpatients' department of the social insurance institute (IKA) in the prefecture of Piraeus.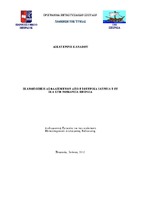 Author
Καναβού, Αικατερίνη
Date
2014-11-19
View/Open
Abstract
The objective of this survey was to measure the satisfaction of persons insured at the Social Insurance Institute – Unified Insurance Fund for Salaried Employees (ΙΚΑ-ΕΤΑΜ) from the outpatients' department of IKA in the Prefecture of Piraeus. 400 insured persons took part in the survey, which was carried out from July 2010 to May 2011. A questionnaire recording the overall satisfaction and satisfaction with the following elements: Access, Building/Areas/Infrastructure, Staff and Service, was used. The scale chosen for scoring the answers was Likert scale. SPSS software, version 16.0, was used for analyzing the demographic data, while MUSA (Multicriteria Satisfaction Analysis) software was used for measuring satisfaction. The results have shown that the insured persons were not satisfied as a whole, since the average global satisfaction index reached 31.29%. The criterion with the lowest satisfaction performance indicator was Service (14.86%), followed by the criterion of Building/Areas/Infrastructure (28.8%). The Staff (54.68%) and Access (56.71%) criteria were the criteria with the lowest importance and demand. 95.75% of the participants stated that the service procedures were bureaucratic, while great importance was given to the available appointment date. The building where the outpatients' department of the Social Institute Institute (IKA) was located was described from moderate to unacceptable by a large rate of insured persons. The insured were neither satisfied with the equipment of the outpatients' department, nor with the machinery, because of the frequent occurrence of malfunctions. Besides, they were unsatisfied with the cleaning services. In addition, they laid more stress on the administrative staff and their service, that on the medical staff and their knowledge. In conclusion, the outpatients' department of IKA did not meet the expectations of a large rate of insured persons. There is a pressing need for taking measures, mostly in terms of the simplification of their service and upgrading of the buildings.
Language
Greek
Collections