Μάρκετινγκ υπηρεσιών υγείας: η περίπτωση του προγράμματος "Βοήθεια στο Σπίτι"
Marketing of health care services: the case of the program "Home Aid"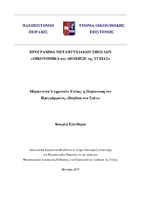 View/Open
Abstract
Over the last four decades, healthcare services have taken the place of the fastest growing segment of the service industry worldwide (Eckrich, Schlesinger, 2011; Yeoh, et al., 2013). This fact has increased the level of competition among industry players, such as marketing tools which are considered to be important resources for the business. However, some scholars advocate that marketing tools are unnecessary for the healthcare industry. The main purpose of the essay is to collect, process and study data in order to analyze and discuss the factors that play a key role in health service marketing, and in particular the "Home Aid" program. This research is carried out by the use of bibliographic data for the implementation of marketing in health services and the use of questionnaires to 50 people who work in this program. The survey was conducted through questionnaires that involved 50 employees of the "Home Aid" Program, sharing their opinion on the factors that play a key role in the implementation of health services marketing at their job. In addition, a large part of the essay is the research, which is based on scientific papers, official journals and web sites that deal with case studies of similar subjects and analyze data and factors that please patients. The statistical analysis of the questionnaires is done by using the SPSS No.22 statistical program. Then, there is a descriptive analysis of the questions and hypotheses of the questionnaires and finally answered by appropriate statistical studies, using X2 statistical tools. In conclusion, most of employees argued that program's management informs them of the importance of social support, as well as they set out the purpose of its existence clearly. It seems that the program's management supports team work and cooperation. However, employees of the program are dissatisfied because they are not provided with further opportunities for training and development. As far as internal marketing, they think that its existence would help because of dealing with health services. Last but not least, they contemplate adding more services into the program because a lot of people are helped.
Postgraduate Studies Programme
Οικονομικά και Διοίκηση της Υγείας
Department
Σχολή Οικονομικών, Επιχειρηματικών και Διεθνών Σπουδών. Τμήμα Οικονομικής Επιστήμης
Number of pages
133
Language
Greek
Collections