Robust fault tolerant detection and isolation techniques for actuator failures in dynamical systems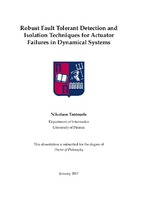 Author
Ταντούρης, Νικόλαος M.
Tantouris, Nikolaos M.
Date
2017-01
View/Open
Abstract
This doctoral dissertation addresses the inefficiencies of the currently applied 'Fault Detection and Isolation' (FDI) techniques, calling for the generation of algorithms which can handle a wide variety of fault profiles and scenarios more effectively. The overarching objective of this dissertation was to develop alternative state-of-the-art methodologies which can be robust, simple to implement, and able to function reliably, in real-time and on a continual basis. To this effect, three novel algorithms fulfilling all the above requirements are derived and presented herein. These three filters are applied to the Guidance Navigation and Control (GNC) designs for autonomous spacecraft and validated within the Lisa Pathfinder (LPF) context in a simulation environment provided by the European Space Agency (ESA). The theoretical basis for their development and application is also amenable to other spacecraft, since robust FDI is critical for operational autonomy. The presented FDI techniques, namely the Diagnosis, Euresis and Euphoria Filters, are generated over two individual phases. Following a comprehensive literature review of the subject matter, initially, two fundamentally different model-based approaches are formulated and pursued, reflective of the two main trends of the existing modelbased methods: the geometric approach and the multiple model approach. The novelty of the Diagnosis Filter (geometric approach) lies in that, in contrast to conventional methods, it does not only generate structured residuals, but also it employs directionality rather than residuals' magnitude as a diagnostic tool for faults (deterministic approach). This filter exhibits remarkable robustness and performs exceptionally well, regardless of the thruster's failure severity. In comparison, the Euresis Filter (multiple model approach) exhibits similar robustness, albeit for total failures only. However, it has the advantage of being applicable to non-linear design models unlike the Diagnosis Filter. During the second phase, directionality is incorporated in another optimisation-based geometric approach (i.e. Euphoria filter). In this case, directionality is not designed in at the outset but it is rather recovered by an adjoint operation on the H2 filter residuals (optimal stochastic approach). The Euphoria Filter outperforms the other two in most evaluation criteria and it can be applied in both linear and non-linear FDI scenarios. In summary, this thesis addresses the weaknesses of the currently applicable FDI techniques, outlines the objectives of this dissertation, and presents three novel FDI methods, extensively tested via Monte Carlo simulations and ultimately validated on the LPF model. The thesis concludes with recommendations for future work, potential developments in the field and alternative applications of these techniques in other domains such as IoT and Cyber-Physical systems.
Department
Σχολή Τεχνολογιών Πληροφορικής και Επικοινωνιών. Τμήμα Πληροφορικής
Number of pages
270
Language
English
Collections