Αξιολόγηση δαπανών υγείας σε σχέση με τις Μονάδες Εντατικής Θεραπείας σε χώρες της Ε.Ε.
Health care cost analysis as regards to the Intensive Care Units in the E.U. countries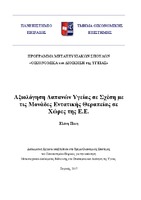 View/Open
Abstract
Since the year 2000, Intensive Care Units and the entire national health system in Greece and in E.U. have entered a period of new orientations and trends between the relations of the national health funding organizations, health care service suppliers, social security providers and national health sector's administration and organization units and also citizens. Since the last decade health sector's funding in Europe has experienced high volatility in Southern Europe recession countries and hard challenges in the North European strong economies oriented to more strictly health care processes and more controlled funding as regards to the investment, revenues, value offered and qualitative outcomes. The study illustrates the recent tendency for more qualitative, productive, interactive and investing financing for health care services, especially for ICU's curement for the period of 2000- 2016 for selected E.U. countries (Germany, France, U.K., Spain, Italy) and Greece. Greece faces the challenge of its national health care sector's firm financing under regulated expenditures, constrained operational costs and more qualitative services from health care units especially from units with particular role and type of services such as ICUs. The new era demands for more efficient and effective health care services to the citizens, with less cost to the government and in appealing prices to the health care providers.
Postgraduate Studies Programme
Οικονομικά και Διοίκηση της Υγείας
Department
Σχολή Οικονομικών, Επιχειρηματικών και Διεθνών Σπουδών. Τμήμα Οικονομικής Επιστήμης
Number of pages
176
Language
Greek
Collections